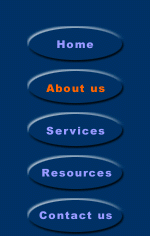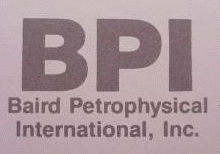 `
BPI Baird Petrophysical
"The Driller's Geophysicist"
About Us
World - Wide Experience
Baird Petrophysical is a world-wide service company. The company has experience in most oil basins around the world.
What Sets Us Apart
We pay attention to details. We are service oriented. Every conclusion and recommendation we provide is prepared knowing there is no compromise and no better solution. If we find a better solution, technique or technology, we buy it, study it, or recommend it to you, our client.

No one has more pore pressure and shallow hazards experience than Baird Petrophysical.
Customer Service
BPI has "big company technology with a small company touch."
Only Professional Associates
Ralph W. Baird, Geophysicist and President, Reg. Prof. Engr. (Colorado)

Mr. Baird graduated with honors from the Colorado School of Mines. He worked for Conoco and Fairfield Industries prior to founding Baird Petrophysical in 1978. Founding Member AADE ( American Association of Drilling Engineers ). Previously Vice President, Geophysical Society of Houston; Past Chairman, OTC Program Committee. Member SPE, AAPG, SEG, IAGC, SPWLA, AIPG, AADE, ASCE, SIPES, GSH, HGS. Ralph is one of the few registered professional engineers and also a geophysicist. Updated Resume, click here.
Jack D. Hall, Vice President

Growing up in the oil patch in Oklahoma, Mr. Hall graduated OU in Petroleum Engineering. He worked for Schlumberger, SSC, ResTech, Z&S and Baker Atlas. Jack is an experienced, proficient log analyst. He is uniquely qualified to interpret Dipmeter and Formation Images. Jack is intimately familiar with and remains on top of wireline and LWD service company field operations.
Leo J. McClure, Geologist, (1921 - 2006)

In 2003, Leo McClure retired from the successful team of McClure/Baird. Leo J. McClure passed away on Wednesday, August 2, 2006 in Metairie, Louisiana. Mr. McClure is the granddaddy's stepson of Geologic and Wellsite Pore Pressure Detection. Leo instructed well over 2000 engineers through his private school and textbook, "Drill Abnormal Pressure Safely." Mr. McClure graduated Oklahoma University in Geology and arose from Exxon to start his private practice and schools in 1976. In 1984 Leo McClure teamed up with Baird Petrophysical to broaden and refine the evaluation of pore pressure from 2D and 3D seismic data. Mr. McClure worked with Eugene Penebaker, who is best known for his 1966 SPE paper on Pore Pressure. Leo is and will be missed by all who knew him.